NASSAU, Bahamas — University of Wisconsin men's basketball coach Greg Gard knew it would take every one of his players to beat Dayton.
Gard said he expected to have to use a deep bench. He was playing against 10 of his 12 grantees as the Badgers (4-0) recorded a 43-42 win over the Flyers (3-2) at the Imperial Arena on Wednesday.
Little did he expect UW top scorers Tyler Wahl and Chucky Hepburn to have another day off after their lackluster performances against UW-Green Bay. The pair was held to a 2-of-18 shootout against the Flyers.
It didn't matter though, because the bank made up for the poor performance of the starters. Three reserves accounted for 55.8% of the Badgers' scoring. Connor Essegian, Markus Ilver and Isaac Lindsey all went out together with 7 of 15, including a blistering 5 of 10 from the 3 point area.
3 things caught by Wisconsin men's basketball's win over Dayton
Aside from the three key reserves, starter Max Klesmit was the only other UW player to make a 3-pointer.
"People like Markus Ilver, Isaac Lindsey and Connor Essegian come in and hit pretty big threes to keep us in the game and keep the two-point lead that we had," Klesmit said. "It's just a tribute to the guys that come and work every day. We see it all the time, of course, because we're teammates, but just the prep practice they've put in.
This was Essegian's fourth collegiate game. He knows his role and says it's to provide an offensive boost. He did just that in his 19:28 on the court, specifically over a 3:52 distance.
Freshman brings confidence and confidence to Wisconsin men's basketball
The Badgers were just 1-to-7 out of the field when Essegian hit a 3-pointer with 13:48 left in the first half. The freshman showed his versatility as he hit a jump shot in the paint. Then he returned to what he's known for – hitting 3-pointers.
Essegian had two more 3-point attempts in the first half, hitting one and earning a trip to the free throw line after Dayton's Kobe Elvis committed a shooting foul. Essegian sank all three en route to a career-high 13 points to lead the team.
He scored again in the second half after Dayton coach Anthony Grant was booed for a technical foul. Normally a veteran would take those unguarded free throws, but Essegian was led to the line by sophomore Chucky Hepburn, where he added two more points.
Ep. 27 BadgerExtra Podcast: Battle 4 Atlantis Preview
Essegian also put in a strong defensive performance and pulled a foul that forced Dayton's Zimi Nwokeji to turnover. He also blocked a shot from Elvis and prevented Flyers newcomer Mike Sharavjamts from scoring in the closing seconds of the first half.
"It's a great feeling," said Essegian. "I just want to come in and bring that spark, whatever the team needs. It was a fairly low scoring game at the time and it just sort of worked out that way."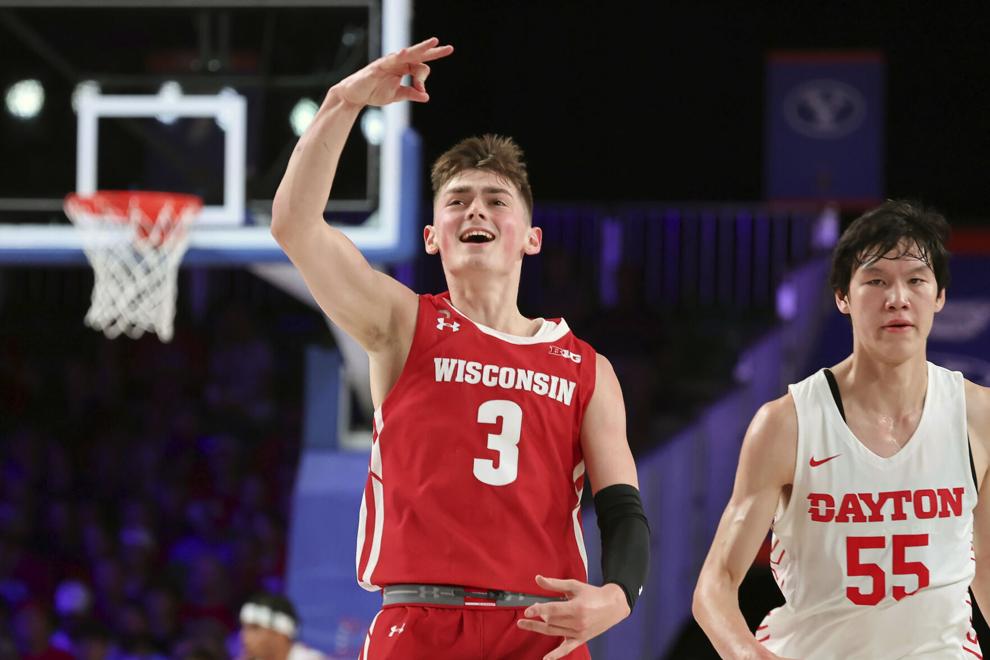 Ilver came off the bench at 8:36 in the first half, but did little to help with a rebound before the break. The second had a more dominant performance in the second half, including a sequence where he rushed the basket after Wahl missed a shot. He passed the ball to Hepburn, who then returned the ball to Ilver for an open 3-pointer.
The Flyers were closing in on the Badgers' lead when Ilver hit his second 3-point of the game to convert a two-point lead to a five-point lead. Gard said it was a big moment for Ilver and the team as it helped build a bit of momentum.
Lindsey also had a career-best outing with five points over the 9:07 he played. The sophomore guard was the team's second-best scorer at half after making a layup and a 3-pointer. He also helped Carter Gilmore get a steal after Dayton's Toumani Camara misfed the pass.
Gilmore played 19 minutes in which he notched three rebounds in addition to the steal. Chris Hodges even came off the bench to give some frontcourt players a break as everyone but Ilver was in dire trouble.
The win is a testament to the whole team's focus on making sure the bank can contribute. UW Bank contributed just 13.6% of the points scored last season. The reserves now contribute 27.9% of goals in the first four games.
"I think these guys understand and have grown in terms of what they can do off the bench and they're getting better," Gard said. "Isaac is better. I think Markus is getting better and understanding what can keep you grounded. It doesn't necessarily take shots. It takes care of the ball. It defends. It bounces back. … If the opportunity presents itself, seize it."
Photos: Wisconsin Men's Basketball Wins Battle 4 Atlantis Opener