There are no morale wins with the University of Wisconsin men's basketball team, not for a program that has claimed two of the last three regular-season crowns. But even head coach Greg Gard couldn't help but hint that Thursday's 69-68 overtime loss to No. 3 Kansas came close to one.
"You know what a good team we can be," Gard said. "We're not quite where we should be yet, but we're getting closer. That will help us, as much as it hurts right now."
Losing to the reigning national champions in the Battle 4 Atlantis semifinals in the Bahamas is one thing, but the fact that the Badgers (4-1) shrugged off an ugly first-half offense to take a 15-point lead eliminate is another. The only difference was Kansas (6-0) made the big game at the end of regulation, hitting a buzzer beater in overtime to seal a win.
Here are my Thanksgiving takeaways from the Battle 4 Atlantis semifinals.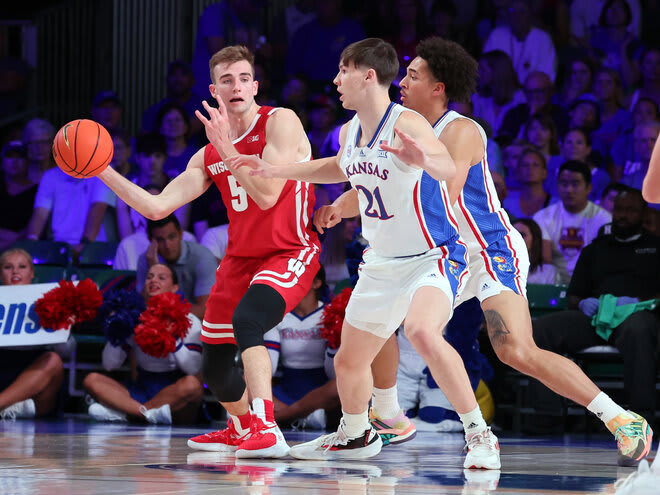 Badgers refused to stop
The first half of Thursday looked a lot like what the Badgers did offensively the day before, which wasn't good.
Rushing, unbalanced shots and poor ball movement all contributed to Wisconsin shooting 30.8 percent from the floor and catching just two offensive rebounds. When Kansas made a push, the Badgers struggled to piece together possessions, didn't show a consistent weapon (or anything consistent, for that matter) offensively with misses on the rim, didn't connect from the center or perimeter, and didn't get to the free-throw line.
That began to change in the second half as Wisconsin relied on its defense. The Badgers forced five turnovers from the 2:49 mark to the 11:52 mark, allowing Wisconsin to reduce a 12-point lead to five while Kansas point guard Dajuan Harris was benched with foul problems. UW's ball movement and shot selection were better, putting the ball in the low post. Max Klesmit got a layup, Tyler Wahl drew fouls and hit free throws and Carter Gilmore made games around the edge.
Even as Kansas blew off a 10-0 run to lead with eight with 3:40 left, Wisconsin went on an 11-0 run to lead with three with 23 seconds left.
"We forced a few shots in the first half," said Wahl. "In the second half we did a better job of letting the game come our way, not rushing and only getting shots that we know are good."
Kansas coach Bill Self admitted that Wisconsin "completely overplayed" his team in the second half and his team "had nothing" after the half and was only able to survive partially because the Badgers failed to make a defensive rebound at the end of regulation and Overtime that led to buckets.
"We made two games that basically gave us the win," said Self. "We weren't the best team today."
Wisconsin's undefeated start was slightly misleading. The Badgers scored 56 points against the winless Green Bay and only 43 points in Wednesday's win against Dayton — a game in which UW's 23.7 shooting percentage was the lowest by a Division 1 team in a win since Temple in 2014 .
Gard has stated on numerous occasions that there are many unknowns in this team after graduation Johnny Davis and Brad Davison. So being narrowly beaten by a lucky jump does leave a bad taste in your mouth but shows the squad how good they can be when attack and defense work as they did for long stretches in the second half.
"This group showed me a lot today," Gard said. "We also learned that we have many things where we can continue to improve. These are the kind of experiences you want at the beginning of the year. Of course you want results, but the determination, the guts and the willingness to keep fighting and to come back and play a better second half. We just have to keep putting together larger chunks of time to play at a high level."
As the Wisconsin head coach said, that's why they schedule these kinds of games.
Election breaks out after halftime
Wisconsin built its roster around established starters this season Steven Crowl and Election Upfront and Point Guard Chucky Hepburn, hoping that the players it took from the transfer portal and last year's reserves would take a step forward. It's a small sample size, but the Badgers' big three couldn't consistently carry the weight offensively. Wahl helped remove his name from that list in the last 25 minutes on Thursday.
Wahl had to sit nearly six minutes after picking up his fourth foul with 9:17 left, a time that saw a three-point game swell to eight. When he came back with 3:38 left, he was a different animal. He shot the ball in five consecutive possessions for Wisconsin and converted four of them with layups on the edge.
"I decided I needed to bring some energy and pick up the pace," Wahl said. "Just be ultra-aggressive, ride downhill, come to my spots."
Of the 11 points in that final run, Wahl was responsible for nine of them, hurting Kansas by catching the ball off the block and assisting a defender to the low post.
"He kicked our ass," Self said.
In overtime, after Wisconsin went empty handed on his first four possessions (one of which was turning the ball over), Wahl twice played on the fringes to put the Badgers a point ahead. He will lament that he didn't catch the final rebound of the game, a contested ball that flew straight to Bobby Pettiford to win the game, but Wahl shook off a 1-on-8 quarterfinal to get back on course to come.
"He's one of the best players in our league, in the country," Gard said. "The bad problems have given him a chance to calm down, sit on the bench and collect his thoughts. He came back and made big plays for us on the track."
For Wisconsin to be great, Wahl has to play well.
Hepburn in a freezer
For Wisconsin to beat great teams, the Badgers need both Wahl and Hepburn to be solid. One reason they're not playing for a championship on Friday is that Hepburn's struggles seem to be plaguing his confidence on both ends of the floor. Hepburn finished 2-9 2-9 in his last three games and was 5-33 in his last three games with no more than two baskets in each game. It was evident that Hepburn was forcing shots as well, including an off-look at the end of regulation, who would have won the game but missed everything. His shot on the first possession of overtime was just as poor and he didn't attempt another shot in the five-minute frame.
After making just four times the turnover in a game than in his true freshman season, he had three consecutive errors in Wisconsin for the first time. Hepburn made a poor pass as he led a 2-on-1 break with Wahl at 10:36, resulting in a turnover and preventing the Badgers from reducing the deficit to two.
Hepburn was not made available to reporters after the game.
Essegian could be Wisconsin's Mr. Big Shot
Wahl's play on the track slightly overshadowed the rookie's work Connor Essegian. It shouldn't because Wisconsin is nowhere near within striking distance unless Essegian delivers the performance he did. He had 13 points in the second half, including a 3-on-4 play from the perimeter, and added two rebounds, an assist, a steal and no turnovers. In his 16 minutes on the floor, Wisconsin outscored Kansas by 17 points. He scored nine of his points in six and a half minutes, cutting the lead to one with just nine minutes to go.
"I was out there just playing," Essegian said. "It was exciting for those going in, but at the same time we really just wanted to fight back. Back then we needed something to get going."
Essegian grows exponentially from game to game, surprising even the coaching staff with the athleticism and toughness with which he plays. It might not happen anytime soon, but considering the Badgers aren't causing much offense Jordan Davis (0 points, 0-for-5 shooting) Essegian could work his way into the starting XI by the turn of the year.
A bad defensive route cost Wisconsin
For the second straight day, Wisconsin's defense made life difficult for an opponent of NCAA tournament caliber. Kansas scored 80 points against NC State, but the Badgers grabbed the paint and forced the Jayhawks to shoot from the center and perimeter, the latter being UW's forte.
At the start of the second media timeout of the first half, Kansas was just 2 for 16 off the ground (at one point missing 10 straight). But for a stretch of 5 minutes and 25 seconds, the Badgers lost their lead and Kansas took advantage.
Jayhawks hit 7 of 9 shots to turn a 6-6 game into an up to 11 lead. The three-pointers were a big weapon as Kansas hit four on the stretch. Badgers got stuck on the back cuts when rotation was a step too slow, and Klesmit gave Kansas freshman forward Gradey Dick too much room on consecutive three-pointers. At 3.2 perimeter shots per game, Dick hit three in the first half…although UW limited him to no points on a shot in the second half.
Wisconsin was able to hold Kansas to 38.7 percent from the ground, grabbing just seven fast-break points and 13 points from 13 turnovers … but those early errors were costly with a one-point loss in overtime.
"There are so many things that if we could have done a handful better here or there, we would have had a different result," Gard said.
_________________________________________________
*Chat about this article in The Badgers' Den
*Watch our videos, interviews and Q&A on our YouTube channel
*Subscribe and listen to the BadgerBlitz.com podcast (like on Apple, Google, Spotify and wherever you listen to podcasts)
*Follow us on Twitter: @McNamaraRivals, @TheBadgerNation, @RaulV45, @pete_brey12, @seamus_rohrer
*Like us on Facebook